Once the last chestnut has been pulled out of the fire and the snow has crowned each tree in white, then winter has come to the Valle Isarco. Now is the time to explore the magic of winter here. There are the five family ski resorts of
Gitschberg-Jochtal
,
Plose
,
Ratschings-Jaufen
,
Ladurns
and
Roßkopf
, with a total of 135 kilometres of pistes and snowparks for winter sports enthusiasts. The area also boasts around
50 toboggan runs
, ranging from short and child-friendly to fast and exciting. The snow-covered meadows of the Valle Isarco are on the other hand perfect for playing in the snow, while some
25 cross-country ski trail
s run through quiet side valleys, offering varying degrees of difficulty and altitudes far from the madding crowd. A well-marked network of trails runs through the snowy mountain panoramas via high pastures and forests: perfect for
ramblers
to enjoy the pleasures of silence as they dream.
Three cities
offer three different but equally attractive Christmas markets: in Bressanone/Brixen can be found 35 exhibitors offering handmade products and specialities; in Vipiteno/Sterzing the mining tradition lives on; while Chiusa/Klausen goes back several centuries to the Christmas of medieval times, with jugglers and fire-eaters to be seen. Whether skiing amidst Dolomite panoramas or sipping mulled wine in the cinnamon-scented Christmas atmosphere, winter in the Valle Isarco is a sugar-coated and charming experience.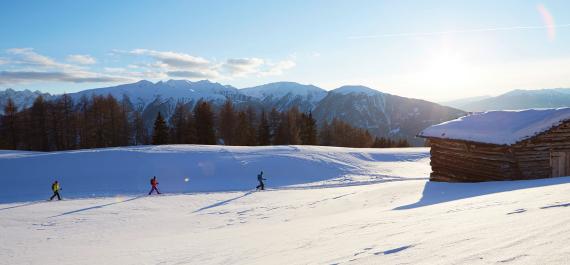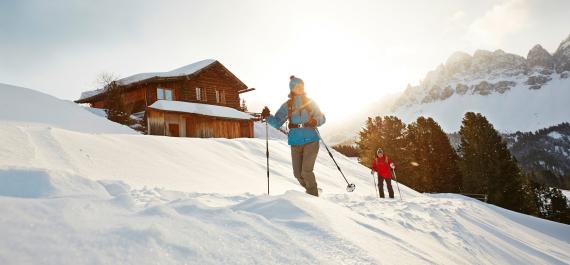 The ski areas of the Valle Isarco
Plose: 27.4 km of slopes of all degrees of difficulty with the longest descent in South Tyrol (9 km), 7 ski lifts, great routes for snowshoe walkers, the longest toboggan run in South Tyrol (10.5 km), 4 cross-country ski trails totalling 23.5 km, funpark and refreshments at the Plosestodl, the Pfanspitz and Plose huts
Gitschberg-Jochtal: 51 km of sunny slopes of all degrees of difficulty, 16 ski lifts, ski school, snowpark, natural toboggan run through the forest, "Bambino Club" for kids, several eateries
Ratschings-Jaufen: 25 km of slopes, 8 ski lifts, kids' play area at the top station and 5 km family-friendly toboggan run, 16 km cross-country ski trail, funpark and ski kindergarten
Ladurns: 14.9 km of slopes of differing degrees of difficulty, 3 ski lifts, short snow slope for kids, 2 cross-country ski trails, 6.5 km toboggan run, Fichti's play area for kids, ski school, refreshments in the rustic Ladurner Hut
Monte Cavallo: 17.3 km of perfectly groomed pistes, 3 ski lifts, 5 km for ski touring, cross-country ski trails, floodlit toboggan run, ski school and ski kindergarten, several eateries